The Spirituality of Strategy
It will seem oxymoronic to some to put the words spirituality and strategy in the same sentence.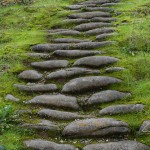 The mainstream world of strategy and marketing is transactional and fast-paced, rather than reflective. Or so it would seem.  Let me paraphrase the four-point test from the strategy model we use in order to make more clear how an organization's strategy design process touches the spiritual aspects of business decisions:
In what way do we create perceived value for our customers?
What value do we create that reflects the best of our collective gifts and intentions?
What is the unique value we can create in the market that no other company is as qualified to create?
Which types of value creation in which we engage give us an opportunity for positive impact in a wide variety of markets or settings?
Some of you might recognize the pattern of the four-point test of the core competence model in the questions above. This model, developed by Gary Hamel and C.K. Prahalad years ago, is an enduring model for breakthrough strategy and strategic innovation.
The first question probes the extent to which we are serving the market by offering something of real value. The second question looks at who we are together as a work community; is there a cohesive sense of identity and purpose that we share?  The third question points to the unique capability that each company has distinct from any another company; what is it that we can do together that no one else can? The fourth question tackles the scope of the firm's vision; how far does it reach, and how might it change our market, our community, our world?
Why are these spiritual questions? Spirituality taps the fullest experience of what it means to be alive, and for many of us this is expressed in relationships.   These questions help us examine the strength of our relationships with ourselves (are we deeply in touch with and expressing the essence of who we are as individuals and as a company?) and others (are we using our gifts and strengths to benefit others as ourselves through either support or challenge?).
Spiritual does not mean airy-fairy and impractical. All four of these questions can be used to advance key performance indicators and other benchmarks that measure organizational performance and outcomes.  The difference is hitching the practical, financial and quantitative aspects of business to something larger, engaging with meaningful action, and allowing the firm to be drawn upward as a result.
Tags: business, conscious business, Corporate Social Responsibility, Green Marketing, marketing, Marketing Philosophy, Purpose, spirituality