Tuesday, July 23rd, 2013
As challenging as it is to find time to create and implement strategic plans, new research reinforces that it's one of the keys to organizational success. Consistent strategic planning and implementation monitoring practices make the difference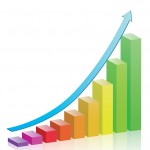 between moderately and highly successful non-profit
organizations according to a study presented in 2013 at the annual meeting of the Association for Strategic Planning.
The University of Arkansas study surveyed close to 500 non-profits ranging in size from less than $1 million Annual Operating Expenses to greater than $5 million. Non-profits scored themselves on their success level (Low, Moderate, High) on the basis of their overall success and likelihood of success in the future.  What can you learn from their findings?
1. Don't wait until there's a crisis
According to the study, 60% self-described Low Success non-profits engage strategic planning reactively when there is either a significant risk or an opportunity, whereas 74% of High Success organizations engage in strategic planning as a matter of routine.
2. Research, metrics and mission/vision discussion key to effective planning
 High Success organizations are twice as likely to integrate evidence-based decision-making (through the use of research), metrics (performance outcomes, industry benchmarks) and mission/vision analysis into their processes. They are far more likely than their counterparts to engage stakeholders via interviews, focus groups or surveys.
3. Follow-through makes the difference
 It's true in for-profit organizations as well:  Realization of strategic value comes through implementation. While 64% of Moderate Success non-profits had done either a somewhat successful or very successful job at implementation, 88% of High Success organizations had done "somewhat" or "very" successful implementation.
4. Regular progress evaluation and reporting against plan are associated with high success
High Success organizations were more than twice as likely as Medium Success organizations to engage in 1) progress updates in executive staff meetings, 2) annual review of mission/vision alignment with plan, and 3) periodic assessment and reporting. High Success organizations assess and report plan progress at least 3 to 4 times a year or more.
All organizations, small and large, struggle with aspects of strategic planning and implementation according to study. Time is a major consideration. 46% of the High Success organizations say lack of time is a challenge in the planning process; 33.8% say that staff is spread too thin to focus on plan implementation.  In what may seem counter-intuitive, the Higher Success organizations are more likely than Moderate Success organizations to report time constraints associated with both planning and implementation.
Medium Success organizations have different challenges that may also affect their overall success. They report a lack of high-level strategic thinking by leadership (37%) and higher resistance to making hard choices (35%) twice as frequently as High Success counterparts.
The study authors conclude that High Success non-profits have a "culture of planning" that involves a commitment and discipline for planning and implementation.  The evidence of the importance of planning to organizational success from this and other studies is so compelling that the authors recommend that funders emphasize these practices as a means to fulfilling mission.
What you should consider:
Develop a planning culture that is committed and disciplined about periodic strategic planning and implementation
Utilize research, metrics and mission/vision alignment tools as part of the planning
Create an implementation process that involves regular progress reports to the executive level
Communicate out progress at least quarterly if not more often to key constituents
The study report can be found here.